WELCOME TO THE JESSIE J WIKI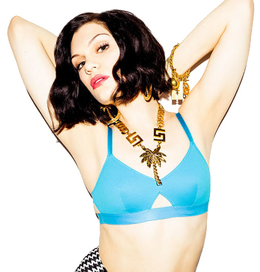 Welcome to the Jessie J Wiki, a collaborative and informative source of all things Jessie J. Here our goal is to provide an informative, attractive Jessie J themed encyclopedia for our viewers and establish a friendly working environment for our editors. Currently, we have 1 admins and 1 active users editing 74 articles and 154 files. A grand total of 1,846 edits have been made here since the wiki's creation in January 2011.
Twenty-seven year old Jessica Ellen Cornish, professionally known as Jessie J is the latest pop sensation to originate from the United Kingdom. With multiple awards, honors and catchy chart-topping singles like "Bang Bang", "Price Tag" and "Domino", she is sensational. With her own autobiography named "Nice To Meet You", three studio albums, not to mention over twenty singles, Jessie J has a lot to show for her career so far.



ABRACADABRA · AIN'T BEEN DONE · ALIVE · BANG BANG · BIG WHITE ROOM · BREATHE · BURNIN' UP · CALLING ALL HEARTS · CASUALTY OF LOVE · CONQUER THE WORLD · DAYDREAMIN' · DO IT LIKE A DUDE · DOMINO · DO YOU HEAR WHAT I HEAR? · EXCUSE MY RUDE · FIRE · FLASHLIGHT · GOLD · GET AWAY · HARDER WE FALL · HERO · I NEED THIS · I MISS HER · IT'S MY PARTY · KEEP US TOGETHER · LASERLIGHT · LOUD · L.O.V.E. · MAGNETIC · MAMMA KNOWS BEST · MASTERPIECE · MY SHADOW · NOBODY'S PERFECT · PERSONAL · PRICE TAG · RAINBOW · REMEMBER ME · REPEAT · SAID TOO MUCH · SEAL ME WITH A KISS · SEXY LADY · SEXY SILK · SILVER LINING (CRAZY 'BOUT YOU) · STAND UP · STRIP · SQUARE ONE · SWEET TALKER · THUNDER · UNITE · UP · WE DON'T PLAY AROUND · WE WILL ROCK YOU · WHO'S LAUGHING NOW · WHO YOU ARE · WILD · YOU DON'T REALLY KNOW ME · YOUR LOSS IM FOUND
Latest News
Loading RSS data...